Buffalo River Elk
First posted on 10-29-2010
I took some time this past Wednesday to see the elk at Boxley Valley in Arkansas. I decided to go during the week since I had heard the highway was more like a St. Louis freeway at rush hour on the weekends.
My first trip to see these magnificent creatures and I was richly rewarded. While the entire valley from Ponca to just past Boxley offers viewing opportunities, I needed to travel just a little way past the Ponca Elk Center to catch a glimpse of three or four cows who were eating along a line of tall weeds about 125 yards or so from me.
A few other people came and went, but nothing like the weekend crowds. As I stood there observing, more elk appeared as cool and stealthily as deer in the woods. Before long, a big bull, clearly the herd's leader, eased his way along the grassy area. The herd fell into line quickly behind this guy and they followed him as he got closer to where I was perched.
Two more bulls, much smaller than the big guy, also made their way out along with a small calf and several more cows. In all, I got to see 25 elk eating, congregating, milling about. The two smaller bulls sparred a little, but it was nothing more than a contest of push and shove.
The Buffalo River is home to the only elk population in the state, although elk were once plentiful in the area. Over hunting, competition with domestic livestock for food and destruction of habitat lead to the demise of elk in Arkansas in the 1840s. By the end of that century, they were gone.
In 1981, the Arkansas Game and Fish Commission re-populated the Buffalo River area with 112 Rocky Mountain elk. The Buffalo area provides ideal conditions for elk and the population now stands at over 500 animals.
The herd I was watching came within 80 yards of me and were continuing to move closer. Eventually, they got distracted by something or someone to my left, behind some brush and it made them nervous enough to move off back toward the weeds.
Elk are in the rut from September through early November in Arkansas, and their frequent visits to the valley draw visitors from miles around, especially during the rut. Although none were bugling when I was there, this is the time when bulls let loose a loud bellow to attract females.
The elk viewing is nearing an end this season but I, for one, will be returning to the valley again next year to watch and to listen.
To see a larger images, just click on any of the photos: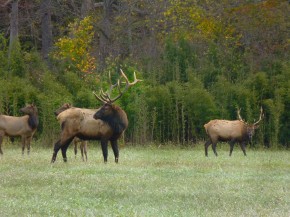 We'd like to hear your thoughts on this article. Reader input is what we're all about at freshare, so please feel free to comment.